Toronto FC's Drew Moor: 'We haven't been good enough'
Sportsnet.ca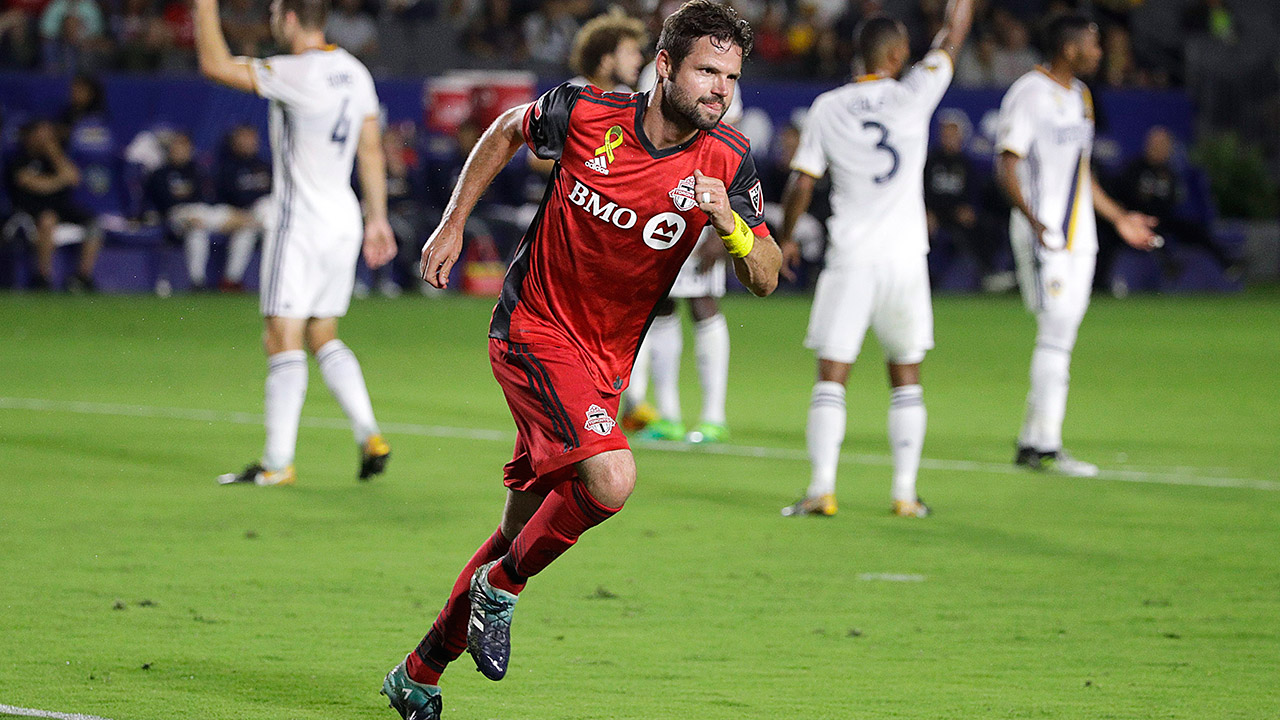 Toronto FC's Drew Moor: 'We haven't been good enough'
TORONTO – Drew Moor doesn't mince words or offer any excuses when asked why Toronto FC has struggled in MLS this year.
In 2017, TFC pulled off a historic treble, winning the Canadian Championship, the Supporters' Shield trophy (awarded to the team that finishes the regular season in first place) and the MLS Cup. The Reds also set a new record for most points (69) in a single MLS campaign.
This season has been a different story. Toronto currently sits 10th in the Eastern Conference, four places and six points behind the New England Revolution, who hold down the last playoff spot in the East. The Reds have lost a remarkable 11 games in MLS – they only lost five times in the league in all of 2017 – and they are in serious danger of missing the post-season.
Injuries have taken their toll, to be sure. TFC has had to make do without a number of its starters for long stretches, including Moor who has been out since April. Balancing MLS and CONCACAF Champions League commitments – as well as a lot of travel – hasn't been easy. But Moor has a simple answer when asked directly why the MLS Cup champs, the team with the highest payroll and one of the deepest rosters in the league, has struggled so much in 2018.
"Sure, we've dealt with injuries. Sure, we've dealt with a busy schedule. But we just haven't been good enough. We haven't been dominant enough. We've dropped points when we shouldn't have," Moor told Sportsnet.
"There's a combination of things that you can think of, I can think of, and we can talk about it all day. But at the end of it, I just think we haven't been good enough."
TFC's performances at home have also let it down. A season ago, the Reds won 13 of 17 league matches at BMO Field, with only one loss, earning a remarkable 42 of a possible 51 points. This year, the Reds are .500 at home, with a 4-4-2 record.
"Our home form has let us down. Your home stadium has to be a fortress and we've lost too many games at BMO, which is unlike us. That has to be better," Moor offered.
The good news for Toronto is that it has a bit of momentum, having won its last four games in all competitions, including posting back-to-back victories in MLS for the first time this term. More good news is that the team is getting healthy and is close to returning to full health. Forward Jozy Altidore and defender Chris Mavinga recently returned from lengthy absences, which leaves only Brazilian fullback Auro Jr. and Moor on the sidelines for TFC.
Moor has been out since April when he suffered a quad tear, and though he was making progress with his recovery, the veteran defender recently suffered a calf injury that set back his return date. He continues to work out on his own, but he told Sportsnet he should be back in full training with his teammates next week, and that he might be available to play at home against New York City FC on Aug. 12.
"I was about two weeks away from being cleared with my quad. I was feeling great, I was ahead of schedule, and right near the end of a drill my calf grabbed a little bit. We had an MRI on it, it was nothing serious, just a small strain, but it has added a little bit more time to my recovery," Moor explained.
"The frustrating part was that I was so close to returning. When you've been out for that long, to then have to go back and we had to let that rest for a week, so it moved the timetable a little bit."
Toronto has certainly felt his absence. Moor has been one of the team's most consistent and reliable defenders since signing with the Reds as a free agent prior to the 2016 MLS season. The 34-year-old native of Dallas has been limited to just three MLS appearances, and not-so-coincidentally, TFC has coughed up 39 goals, one of the worst defensive records in the league.
Moor is one of the most experienced players in MLS history, having played in 364 regular-season matches and 23 playoff games since making his debut for FC Dallas in 2005. He's never been out of commission for this long due to injury or health issues, and has found this experience to be both mentally and physically challenging.
"I've been very fortunate over the course of my career in taking good care of myself, and not having had to miss a lot of time due to injuries. To miss the bulk of this season, and felling like you can help your team out and wanting to help it out in every way possible, it's tough. When I think about how some guys who have dealt with injuries year in and year out, I makes you not want to take your health for granted," Moor said.
There's also a disconnect that Moor felt at times, as though he wasn't part of the team because he couldn't play or even train with his teammates. He combated that by adjusting his rehab schedule and doing little things, like continuing to go to team video sessions. He also traveled to Orlando for a recent road game even though there was no chance of him playing.
"[Staying connected] was one of the main challenges, because you can only do so much. You have to get treatment, you have to do your rehab in the gym, and the guys are out on the training field. I've tried as much as possible to do my gym work after training so that I can be on the field, even just to be a voice, to walk around, to watch how things are going," Moor explained.
"You try to involve yourself as much as possible, but you feel that little bit of disconnect, and that can be a challenge."