World Cup final rankings: How France and Croatia stack up
Sportsnet.ca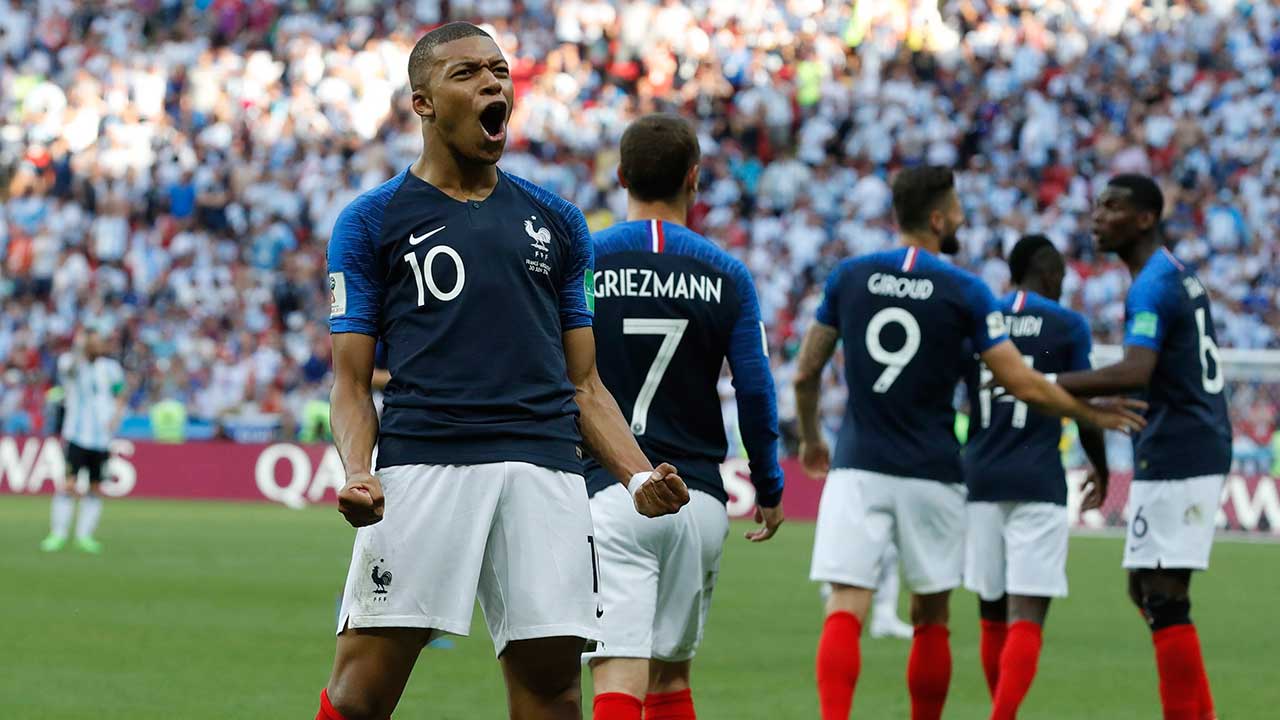 World Cup final rankings: How France and Croatia stack up
After a month of pandemonium, this extraordinary World Cup comes to an end on Sunday as France faces off against Croatia.
With a win, Les Bleus will lift the trophy for just the second time in their history, while the Vatreni are in their first-ever final and could become just the fourth first-time winner since 1978.
Ahead of each of the past knockout rounds, we've ranked each team competing based on their play so far in the tournament. With the final, we're doing things a bit differently, breaking down both France and Croatia by position and picking which side has the advantage.
Here's how we see the 2018 FIFA World Cup finalists stacking up:
FORWARDS
France
After the first group stage match against Australia didn't go exactly as planned, Didier Deschamps replacing 20-year-old Ousmane Dembele with veteran striker Olivier Giroud and has since fielded the same front three in every game. Despite his struggles to find the back of the net, the introduction of Giroud has been immense thanks to his excellent hold-up play and defensive contributions. Teamed with Antoine Griezmann, who has yet to play his best in Russia, and young superstar Kylian Mbappe, this trio gives France a formidable attack that can beat opponents in a variety of ways.
Antoine Griezmann's #WorldCup game by numbers vs. #BEL:
88% pass accuracy
6 shots
4 fouls won
4 crosses
3 chances created
1 shot on target
1 assist
Griez the mann. pic.twitter.com/Ucq3aaLS2I
— Squawka Football (@Squawka) July 10, 2018
Croatia
While it may not boast the star power of the French front three, the Vatreni are no slouches up front. In Mario Mandzukic and Ivan Perisic, Croatia have plenty of big-game experience and both are coming off arguably their best games of the tournament. Ante Rebic completes the Croatian trio, and has been somewhat of a revelation in Russia. The three drove England's defence mad in the semifinal with incisive runs and dangerous crosses, which led to both goals against the Three Lions.
Advantage: France
With world-class talents like Griezmann and Mbappe, it's hard to argue Les Bleus don't have the upper-hand here. That's not to say Croatia's attack won't pose problems for France — it very much could be a difference-maker given what we saw against England.
MIDFIELDERS
France
With N'Golo Kante and Paul Pogba, France has dominated the middle of the park in all of its World Cup matches. Kante is the key to the defensive success Deschamps' side has found at this tournament, shielding the back four with an unparalleled motor. Pogba has been crucial to Les Bleus' counter-attack, distributing brilliantly to the front-three, while also playing a pivotal role in France's press. With one of Blaise Matuidi and Corentin Tolisso slotting in alongside, this midfield has been the driver of the country's success in this tournament.
0 – France have never lost a game with N'Golo Kante & Paul Pogba both in the starting 11 (W14 D4). Complementary.#WorldCup pic.twitter.com/l4FOJWrHbv
— OptaJean (@OptaJean) July 12, 2018
Croatia
Captain Luka Modric and midfield partner Ivan Rakitic are among the world's best midfielders, are jacks of all trades and, as we've seen in three-straight extra-time matches, seem to only be more effective as the game progresses. But what really sets these two apart is their experience in the biggest matches: Modric has won three straight Champions League titles with Real Madrid, while Rakitic has won European club football's highest honour once and is coming off a La Liga title-winning campaign with Barcelona. Likely lining up in a 4-2-3-1 with Rakitic and Marcelo Brozovic in a double pivot with Modric in a No. 10 role, Crotia's success lies on the shoulders of its midfield.
Advantage: Croatia
While Kante and Pogba are undoubtedly world class, the inconsistency surrounding the final piece of France's midfield (Matuidi or Tolisso) throughout the tournament, and the championship experience Modric and Rakitic gives Zlatko Dalic's side a slight edge.
DEFENDERS
France
With an average age of less than 23, France's back four has shown little of its inexperience (in age) throughout the tournament — even relatively unknown right back Benjamin Pavard has played a vital role, and delivered arguably the best goal of the tournament. Outside of the wild Round of 16 match against Argentina, France have allowed just one goal in their other five matches and it was from the penalty spot. Supported by the brilliance of Kante, Deschamps' back line has been incredibly hard to break down and that will continue against Croatia.
Croatia
The Vatreni's biggest weakness is likely in its back four, with a centre-back pairing in Dejan Lovren and Domagoj Vida that has been exposed by speedier opposition — England's Raheem Sterling gave the duo serious problems in the semifinal — while left-back Ivan Strinic will likely miss the final due to injury. Croatia's best defender is Sime Vrsaljko, who is not only crucial in defence (he cleared a John Stones extra-time header off the goal-line in the semifinal) but plays a big role in the attack.
Advantage: France
Didier Deschamps' side has ridden to the final on the back of its defence, and it's the only area of the pitch where the French are clearly more talented. It would be a major breakthrough were Croatia able to find a way to breakdown France's defenders.
GOALKEEPERS
France
After an uncharacteristically average season between the posts for Tottenham last season, Hugo Lloris has bounced back in a big way at the World Cup. The 31-year-old has been crucial to France's defensive prowess and has to be considered the favourite for the Golden Glove as best goalkeeper of the tournament.
7 – Hugo Lloris saved the last 7 shots on target he has faced at the 2018 World Cup. Boss. #WorldCup #FRABEL pic.twitter.com/GWNVjr7ge7
— OptaJean (@OptaJean) July 10, 2018
Croatia
Danijel Subasic has played the role of hero on multiple occasions for Croatia already during the knockout stage, and he'll have to be at his best Sunday for the final. The 33-year-old outduelled Kasper Schmeichel in the Round of 16 with three saves in the shootout, and then rebounded from what looked to be an injury or cramps against Russia to make another big penalty stop. He also made some huge saves against England in the semifinal.
Advantage: Push
These goalkeepers have been an enormous part of both teams' run to the World Cup final, and picking which man gives his team a bigger advantage is next to impossible.
INTANGIBLES
France
Game-changing talent: Up and down its roster, France is loaded with players who can single-handedly take over a game. From Kylian Mbappe to Antoine Griezmann to Paul Pogba, Les Bleus will never run out of options if they need a player to save the day. And if we've learned anything from World Cups past, it's that it only takes one moment of brilliance to seal the trophy.
Croatia
Resilience: This Croatia team has been through the ringer. From its coach being fired during World Cup qualifying, to clinching a tournament berth in playoffs, to three straight extra-time matches in the knockout stages, the ups and downs this side has faced since October appears to have only strengthened its resolve. Looking to make history in the final, Croatia's journey to this point could play a key role should Zlatko Dalic's side come out on top.
Advantage: Croatia
With confidence at an all-time high for Luka Modric & Co., Croatia must feel like nothing can stop them. It's that type of mentality that can carry an underdog over the final hurdle to World Cup glory.